Produce Label-Ready Music In Only 30-Days
"I've gone from never finishing a track to a 3-Song EP signed! Thanks, Kimba!
"I've worked with Joel in the past, but this course is totally different! I've tried most online production schools, but this blows every other service out of the water."
"16 days in, and I've had my first song signed! Highly recommend."
Label Ready In 30-Days Agenda
Week 1
Crafting Impactful Drum Loops
Unleash Your Inner Detective: Learn to analyse professional music to create your goal genre.
The Perfect Drum Arsenal: How to select high-quality samples for your beats.
The Art of Dynamic Drum Loops: Craft beats with the right pacing, energy, and mood.
Groove and Rhythm Mastery: Create irresistible grooves that keep dance floors moving.
Sonic Alchemy: Apply creative effects and processing techniques to get that professional sound.
Discover Your Artistic Identity: Develop a unique signature sound.
Submission & Professional Feedback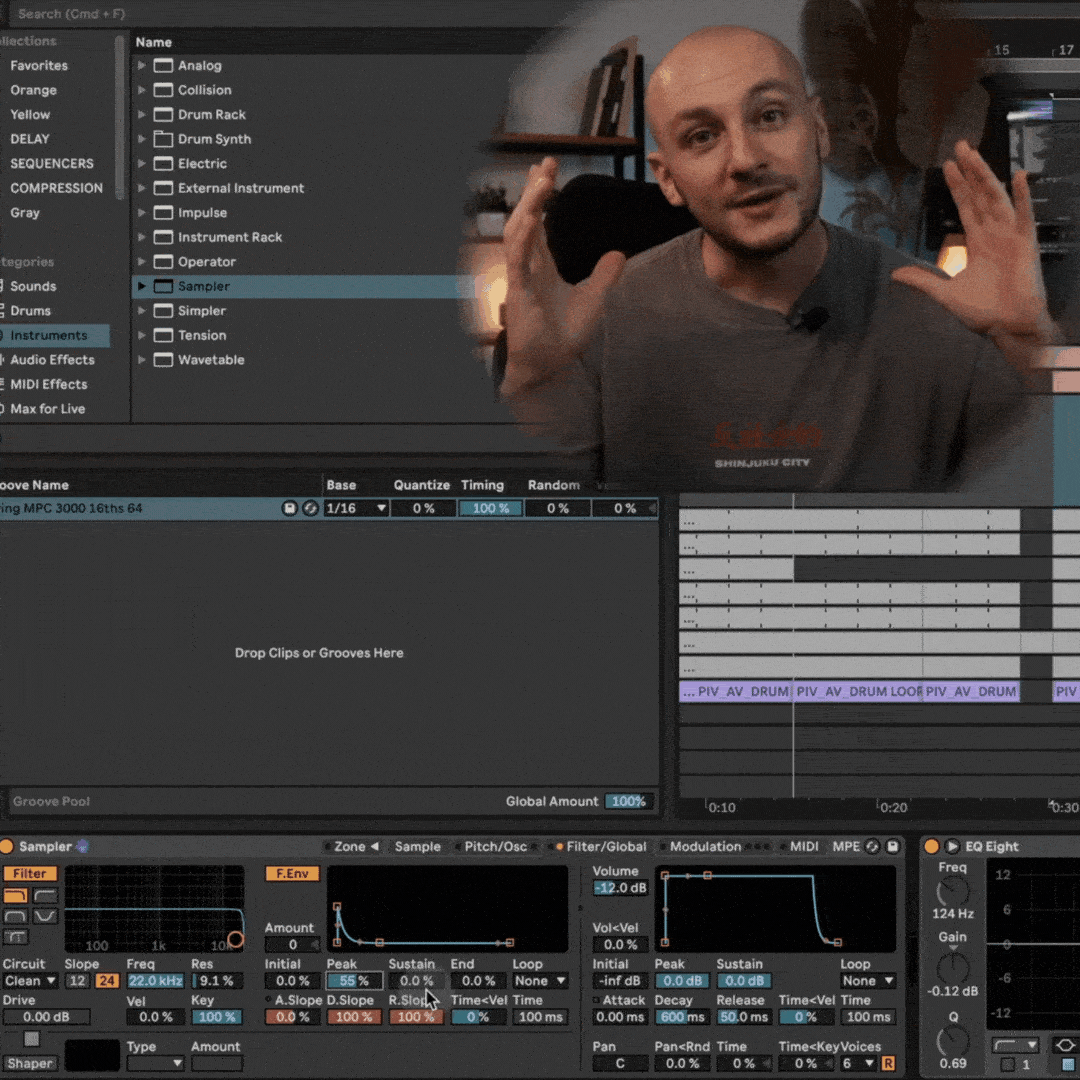 Week 2
Bassline Techniques and Creative Design
Recreate Captivating Basslines: Learn techniques to replicate captivating basslines from other music.

Explore Creative Sound Design: Discover innovative approaches to craft impactful bass sounds.

Master Precise MIDI Placement: Unlock the art of precise MIDI placement for compelling bassline sequences.

Enhance with Processing Techniques: Learn to enhance and shape basslines using various processing methods.

Craft Memorable Hooks: Create catchy bassline hooks that leave a lasting impression.

Create Dance Floor-Ready Tracks: Combine bassline skills with effective song arrangements for energising the dancefloor.

Submission & Professional Feedback.
Week 3
Song Structure and Engaging Arrangements
Structuring Engaging Songs: Break free from the loop trap with practical techniques.

Dynamic Song Progression: Craft intriguing and evolving arrangements to captivate listeners.

Building Tension and Release: Create captivating dynamics in your songs.

Seamless Transitions: Achieve a memorable flow and cohesion in your tracks.

Adding Textures and Fills: Enhance your arrangements with layers of interest.

Utilising Dynamics and Contrast: Engage listeners through variation and contrast.
Week 4
Week 4 - Club-Ready Sound and Professional Mixing
Perfecting Club-Ready Sound: Techniques to make your track sound great in any club setting.

Professional Mixing: Learn how to mix your song to achieve a polished and professional sound.

Sending Your Track for Release: Gain the confidence to send your music to favourite artists or labels for potential release.
Bonus Material
Unlocking Music Industry Secrets
Approaching Labels: Insider tips and strategies for reaching out to labels.

Marketing Yourself and Your Music: Techniques to promote your music and build your brand.

The Power of Productivity: Strategies for staying relevant and Productive in the music industry.

Unlocking Industry Secrets: Insider knowledge and insights to navigate the music industry successfully.
Whats Included In The Course
You'll embark on a well-structured proven path designed to offer a personalized approach, guiding you on an exciting journey to master the art of House music production.
Our course teaches you the valuable skills of self-analysis and self-coaching. You'll learn to critically evaluate your work, identify areas for improvement, and elevate your unique style. Gain independence as an artist and develop the tools for long-term success."
Experience hands-on learning with tasks and feedback. Put knowledge into practice, enhance skills, and receive valuable guidance.
As a full-time music educator, I have devoted my career to sharing my passion for music and helping aspiring artists achieve their dreams. My journey began as a music producer under the alias 'Kimba,' where I discovered the immense joy in witnessing my peers succeed through the advice I provided. This realisation sparked a new path for me, leading me to pursue teaching as a full-time profession.
Over the past five years, I have had the privilege of guiding thousands of students on their musical journeys. Witnessing their growth and seeing them achieve their musical goals has been incredibly fulfilling. My approach combines my practical experience as a producer with my expertise as an educator, ensuring that my students receive practical knowledge and actionable guidance.
I firmly believe that every artist possesses unique talents and untapped potential. Therefore, my mission is to create a supportive and empowering learning environment where students can explore their true artistic voices, release music on their dream labels, and take their musical careers to new heights.
Who This Course Is For...
You want to learn how to produce, finish and mix House music to a professional standard - Or you want to learn to do it better.

Although I will take you from zero to Hero, this course is also great for experienced producers who want to learn how to produce QUALITY Music and approach the music industry professionally.

You're willing to WORK HARD - This programme works when you do. If you don't plan on taking this seriously, you won't see results.
Who This Course Is NOT For...
You are looking for a course that teaches every single effect and setting inside Ableton. This course is designed to get you the best results possible quickly, not to explain the specifics of every knob and button.

You are not making House Music - Although I believe any artist will gain benefit from this course. It has been designed for people that want to produce House music, and I think these are the people that will gain the most benefit.
Listen To These Client Stories
Frequently Asked Questions
How long do I have access to the program & when does it start?
How does forever sound?
Label Ready in 30 Days officially launches on 17th July 2023 if you are reading this now, then that means you are lucky enough to purchase for a discounted price during the pre-launch. Once enrolled, you will have lifetime access meaning you can refer back to the course as many times as you need.
Why wouldn't I just learn for free on youtube?
When scripting this course, I have spent countless hours listing all of the problems producers encounter. I have then taken the solutions and bundled them into this course. I agree. You can learn almost anything on youtube. I mean, I literally did that myself. But why would you want to spend 5 years learning something that you have the option of learning in 30 days?
What skill level is this course for?
Label Ready In 30 Days was designed for producers that already know the very basics of Ableton. The course was designed for people that already have access to a sample library and know the basics of how a song is put together. If you are already finishing music or able to make a loop, but you're not happy with the standard. This course is for you. It has been designed to help you realise why you're dissatisfied and guide you through the solution.
14-Day Money Back Guarantee
I'm not asking you to decide yes or no today. I want you to be able to make a fully informed decision. The only way to make an informed decision is on the inside, not the outside. So sign up today, get on the inside and check that everything I teach is truly valuable. Then if it is, you can keep going happily on the course.
But if you decide within 14 days it's not for you, then no hard feelings; you can email me at [email protected], let me know, and I will get back to you with a full refund right away, no questions asked!
I would never expect you to buy a house from me without first seeing what it looks like!
Whether it's 14 minutes, or 14 days, if you're not happy, I'm not happy. I only want to keep your money if you're happy!
Someone who isn't confident in their product cannot make this guarantee. Still, I'm happy to do so because I'm extremely confident that Label Ready In 30-Days will help you make the best music of your life and have you finally releasing music on your dream labels.